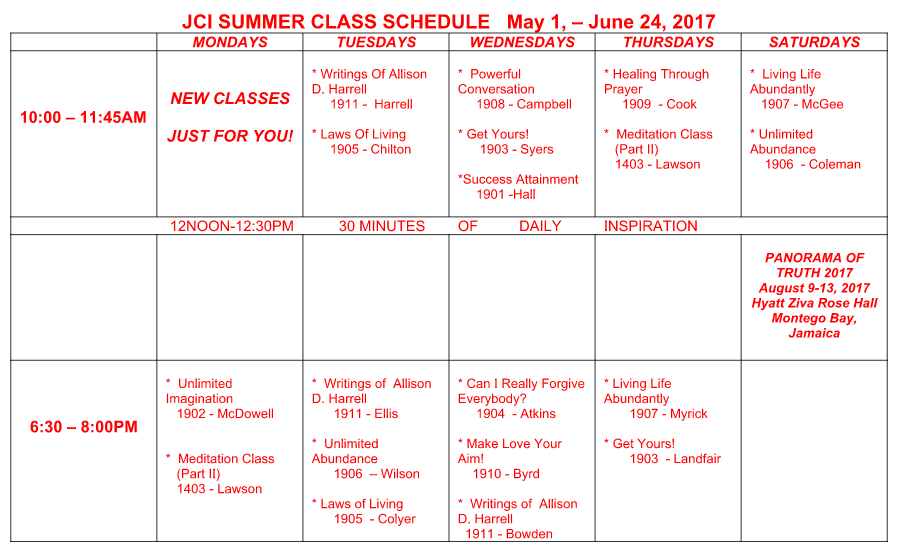 YOU NEED TO KNOW:
Classes are open to all. There are no prerequisites. One (1) elective credits will be given for all classes.
HOW TO REGISTER:
Mondays through Fridays: 9:30am – 4:30pm
Saturdays: 9:30am – 1:00pm
Sundays: Before and after service
Registration Fee: $20.00 Late Fee: $25.00 (After May 1, 2017)
Fees are nonrefundable.
A Love offering will be taken in all classes. Make all checks payable to: C.U.T. / J.C.I.
JCI RESERVES THE RIGHT TO CANCEL CLASSES DUE TO LOW ENROLLMENT.
"SPRING FLING "
Study classes are the key to the expansion of the soul. Why settle for less when you can choose to achieve the life we were created to live. How? Join others as we explore and study together.
UNLIMITED IMAGINATION – Learn to experience your heart's desire through the use of your imagination.
TEXT: The Power of Unlimited Imagination – Neville
SUCCESS ATTAINMENT – Explore seven simple principles which can be applied to your personal life to evoke success.
TEXT: The Seven Spiritual Laws Of Success – Chopra
GET YOURS! – Treasure Mapping methods you can use to turn your dreams into your reality.
TEXT: What Treasure Mapping Can Do For You – MacDougall
CAN I REALLY FORGIVE EVERYBODY? – Discover powerful approaches to healing your heart, lifting your spirit, and finding the power to love, grow and forgive.
TEXT: Finding Forgiveness – Dunchunstang, Ed.D.
UNLIMITED ABUNDANCE – Explore and apply basic principles that must be learned before prosperity can become a reality.
TEXT: The Four Spiritual Laws Of Prosperity – Gaines
LAWS OF LIVING – Learn new ways of interpreting parables from a New Thought perspective.
TEXT: Learn To Live – Searle
MEDITATION CLASS – Discover the Power of your heart and overcome limitations and fulfill your highest potential.
TEXT: Power Of The Heart – Baptiste de Pape
LIVING LIFE ABUNDANTLY– Learn new ways to celebrate your life and move through it with ease.
TEXT: You Can Still Live – Chauncey
NO TEXT REQUIRED
HEALING THROUGH PRAYER
MAKE LOVE YOUR AIM!
POWERFUL CONVERSATION
WRITINGS OF ALLISON D. HARRELL
THE LORD'S PRAYER
THE TWENTY-THIRD PSALM
THE BEATITUDES
PROSPERITY FOR BETTER LIVING
HOW BIG IS YOUR GOD?
JESUS, JESUS, JESUS
GIVING THANKS TO GOD
FOLLOW ME
"It is God's will that every individual on the face of the earth should live a healthy, happy, and prosperous life."