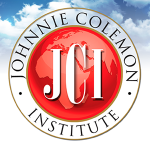 Since 1974, JCI has graduated thousands of students. Those graduates attest to their renewed ability to "Master" all conditions of their lives. An extensive number of students are now licensed JCI teachers and U.F.B.L. Ministers. The Johnnie Colemon Institute has been founded in order to offer an orderly, systematic study of the Jesus Christ Teachings whereby one may learn the Truth of God and humankind. Study classes are the key to the expansion of the soul. Universal Truth Principles are taught in every class to prepare the seeker with the knowledge he/she needs to grows through life's experiences. Coming soon, JCI will offer a Leadership-Business for Better Living.
Students who attend classes soon begin to understand their relationship with God and how to discover the Divine Power within. All JCI classes are open enrollment. JCI offers Fall, Winter, Spring and Summer Semesters along with meaningful and relevant seminars throughout the year.
"Jesus Christ is the head of this Institute.
We open our minds and hearts to His teaching for
He is our guide to better living."
Every class is based on these principles:
1. The Omnipresence of God
2. The Divinity of Humankind
3. The Value and Power of Thought
4. Practicing the Presence
5. The Law of Demonstration
Better Living Master Certificate classes include:
· Basic Truth Principles I & II
· Discover the Power Within
· Self-Discovery Classes
· Bible 1,2,3,4,5, & 6 Classes
· Prayer and Meditation Classes
· Healing and Healthy Living Classes
· Prosperity Classes
· A variety of Consciousness Building Elective Classes
The JCI Master Plus Program is specifically designed for those students who have successfully completed all the requirements in the Better Living Program. Students gain a deeper metaphysical interpretation of Truth Principles.
Please note that the semester schedule grid with dates and times will be changing each semester.
For more information contact JCI at 773-568-1770 or email jci@cutemple.org.