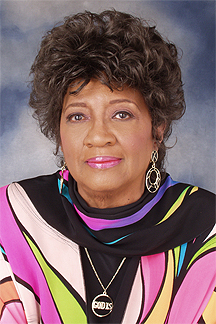 The Reverend Dr. Johnnie Colemon, often referred to as the First Lady of the New Thought Christian Community, founded Christ Universal Temple, a thriving, spirited, and progressive New Thought Church in 1956. In 1974, she established an international organization of affiliated New Thought churches and study groups called the Universal Foundation for Better Living.
As a member of the International New Thought Alliance (I.N.T.A.), Rev. Colemon served as the district president and the chairperson of the 60th I.N.T.A. Congress held in Chicago.
"Johnnie", as Rev. Colemon is affectionately called, celebrated fifty years of building and teaching in 2006, the year she retired as the Senior Minister of Christ Universal Temple. During her tenure, she built five structures to spread the "Better Living" teachings, including three churches and two institutions of learning (Johnnie Colemon Institute and Johnnie Colemon Academy). She also constructed a luxury banquet hall and restaurant in service to a community that, previously, had little access to a high end dining experience. The first church, built in 1962, was named Christ Unity Temple, with a its addition to accommodate another 1000 parishioners constructed in 1972. When the congregation outgrew the first church and the additional building, Rev. Colemon designed, constructed, and moved into the current Christ Universal Temple, located on the 100 acre campus at 119th Street and Ashland Avenue in Chicago.
The Rev. Dr. Johnnie Colemon's leadership, vision, and love continues to have an impact on a global scale as Christ Universal Temple remains a 'Light Unto All Humanity.'