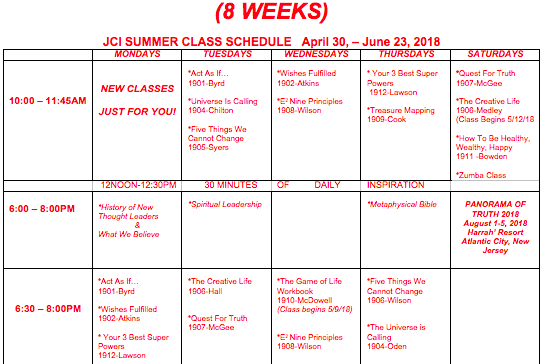 YOU NEED TO KNOW:
Classes are open to all. There are no prerequisites. Two (2) elective credits will be given for all classes.
HOW TO REGISTER:
Mondays through Fridays: 9:30am – 4:30pm
Saturdays: 9:30am – 1:00pm
Sundays: Before and after service
Registration Fee: $20.00 Late Fee: $25.00 (After April 30, 2018) Fees are nonrefundable.
A Love offering will be taken in all classes. Make all checks payable to: C.U.T. / J.C.I.
JCI RESERVES THE RIGHT TO CANCEL CLASSES DUE TO LOW ENROLLMENT.
"SPRING AWAKENING"
TO A
BETTER LIFE
April 30, – June 23, 2018
(8 WEEKS)
"…study to show yourself approved unto God" II Tim. 2:15
THE CREATIVE LIFE – This class will offer positive life changing solutions in handling everyday situations.
E2:NINE DO-IT-YOURSELF ENERGY/ EXPERIMENTS – Explore these experiments to prove there really is a positive loving, force in the universe.
HOW TO BE HEALTHY, WEALTHY, HAPPY – Learn to strengthen your relationship with God and live life abundantly.
THE FIVE THINGS WE CANNOT CHANGE – In this class you will discover ideas and spiritual practices for contentment.
THE UNIVERSE IS CALLING – Learn simple methods of prayer that can bring dynamic results.
UNITY: A QUEST FOR TRUTH – Focus on getting a greater understanding of God, through practicing practical spiritual principles.
WISHES FULFILLED – Change your concept of self and embark upon a God-realized way of living.
WHAT TREASURE MAPPING CAN DO FOR YOU – Learn to treasure map for all the things you desire.
ACT AS IF: THINK IT INTO EXISTENCE – Explore insights to creating and designing your dreams, desires and goals.
THE GAME OF LIFE WORKBOOK – A step by step map to the prosperous life that's just waiting to be discovered.
YOUR 3 BEST SUPER POWERS – Discover ways to tap into your superpowers using meditation, imagination and intuition.
ZUMBA, FLEX & STRETCH
8 WEEKS CLASSES (10:00AM – 10:45AM)
SATURDAY, APRIL 7, – JUNE 2, 2018 (no class April 21, due to Gold Rush Conference)
(Bring a friend who registers for the Zumba class and get a discount)