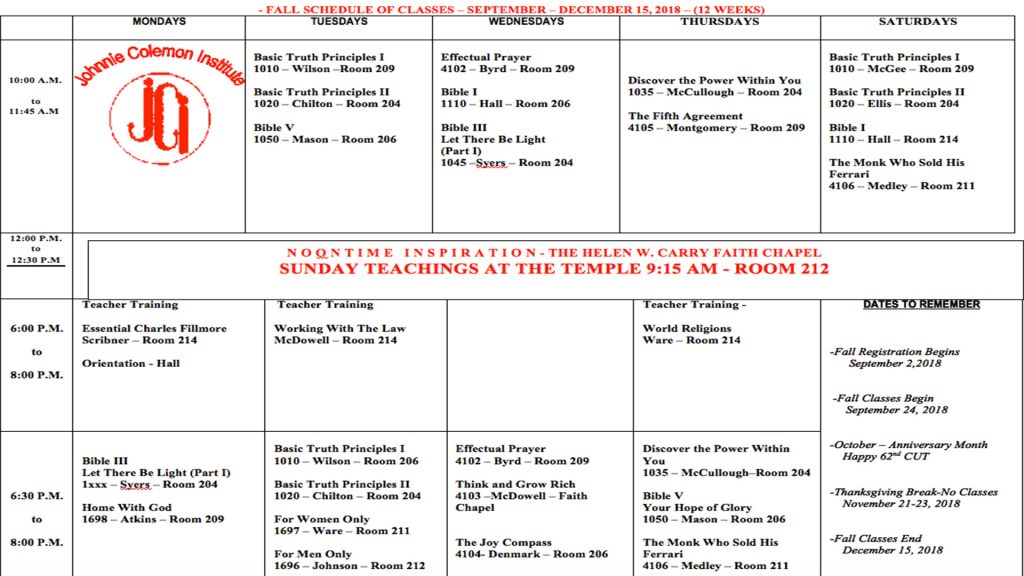 YOU NEED TO KNOW:
Classes are open to all. There are no prerequisites. Two (2) elective credits will be given for all classes.
HOW TO REGISTER:
Mondays through Fridays: 9:30am – 4:30pm
Saturdays: 9:30am – 1:00pm
Sundays: Before and after service
Registration Fee: $20.00 Late Fee: $25.00 (After September 24, 2018) Fees are nonrefundable.
A Love offering will be taken in all classes. Make all checks payable to: C.U.T. / J.C.I.
JCI RESERVES THE RIGHT TO CANCEL CLASSES DUE TO LOW ENROLLMENT.
"IT IS TIME TO DEMONSTRATE YOUR DIVINITY!"
September 24, – December 15, 2018
(12 WEEKS)
"…study to show yourself approved unto God" II Tim. 2:15
GENERAL STUDY CLASSES
Required for the JCI Master Certificate Program
BASIC TRUTH PRINCIPLES I An introduction to the Basic Truth Principles as espouse in the Johnnie Colemon Institute, it includes the origin and history of New Thought. This leads to a better understanding of the priniciples one should apply in order to live the abundant life taught by Jesus. TEXTS: Alternatives – Fisher, New Thought Christian-Warch The Monk Who Sold His Ferrari
BASIC TRUTH PRINCIPLES II This class provides a more in-depth study of the Basic Truth Principles which one should learn in order to live a healthy, happy, prosperous and more successful life. Prerequisite: Basic Truth Principles I
TEXT: Lessons In Truth-Cady
BIBLE I: INTRODUCTION TO THE BIBLE A knowledge of Teacher Training the literal helps one better understand the metaphysical. Prerequisite: Basic Truth Principles I and II  Text: Don't Know Much About The Bible-Davis
BIBLE III: OLD TESTAMENT METAPHYSICAL A study of the metaphysical meaning of the characters and events of the Old Testament and their relationship to our attitudes and experiences. Prerequisite: Basic Truth Principles I and II, Bible 1 & 2 TEXT: Let There Be Light-Turner
BIBLE V: NEW TESTAMENT I—METAPHYSICAL  A study of the metaphysical interpretation of the life and teaching of Jesus, and their impact on our spiritual growth. Prerequisites: Basic Truth Principles I and II, Bible 1,2, 3 and 4 TEXT: Your Hope of Glory – Turner
DISCOVER THE POWER WITHIN YOU -This class explores Jesus' unique concept of God and his practical teachings about attitudes. Prerequisites: Basic Truth Principles I & II, Bible 1,2, & 3 TEXT: Discover the Power Within You – Butterworth
EFFECTUAL PRAYER – Learn practical steps that are taken to enter the silence where God dwells.
Prerequisites: Basic Truth Principles I & II; Bible 1,2, 3
TEXT: Effectual Prayer—Foulks
ELECTIVES
FOR WOMEN ONLY– Move beyond the images being pushed forward by the media and express the "YOU" God intended.
TEXT: The Gifts of Imperfection – Brown
FOR MEN ONLY – Learn how to confidently look the prospect of failure in the eye and move forward anyway.
TEXT: Failing Forward –Maxwell
HOME WITH GOD – Neale Donald Walsch offers com- fort, hope, healing and revelation on the process of tran- sition.
TEXT: Home With God –Walsh
FINDING LASTING JOY – Discover how to find lasting happiness, gratitude and optimism in the present mo- ment.
TEXT: The Joy Compass – Altman
ELECTIVES
THINK AND GROW RICH – Learn and apply the tech- niques in this class that will, if you apply them, lead to a life of wealth and success.
TEXT: Think and Grow Rich –Hill
BREAK YOUR SELF-LIMITING AGREEMENTS— Discover a deeper awareness of the power of Self and return to the authenticity you were born with. TEXT: The Fifth Agreement –Ruiz
THE MONK WHO SOLD HIS FERRARI — Get a step- by-step approach to living with greater courage, bal- ance, abundance and joy.
TEXT: The Monk Who Sold His Ferrari –Sharma
"MASTER PLUS PROGRAM"
This program is for students who have been awarded a Master Certificate and wish to continue in advance study classes. Prerequisite: Master Certificate
Tuition: $100.00 (No offering will be taken in this class)
TEXT: Prosperity-Fillmore