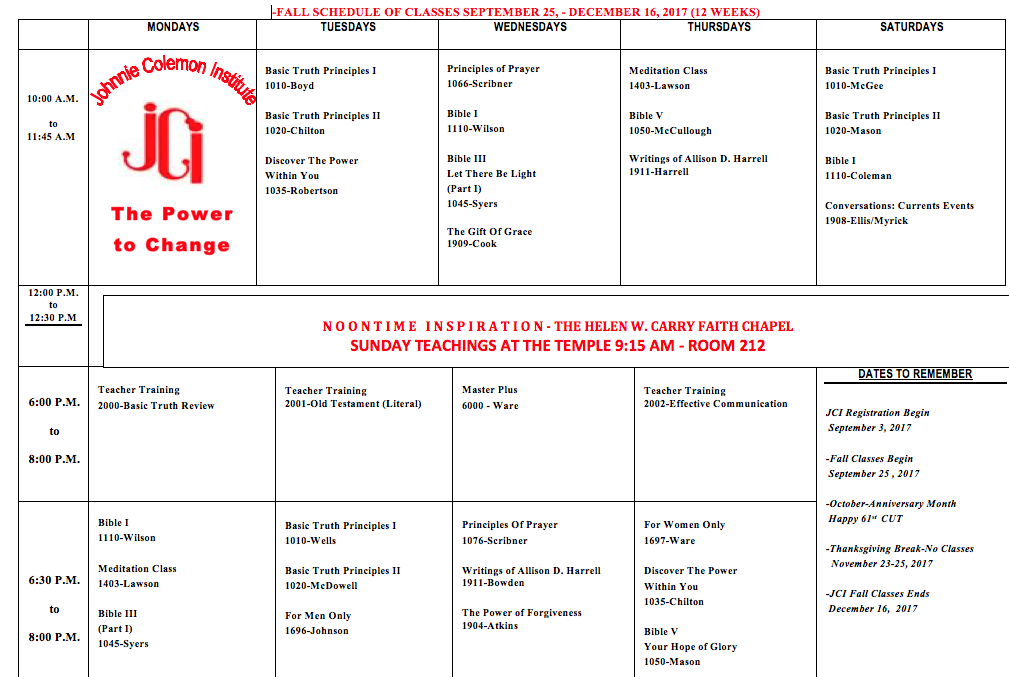 YOU NEED TO KNOW:
Classes are open to all. There are no prerequisites. One (1) elective credits will be given for all classes.
HOW TO REGISTER—IN PERSON: Registration: September 3, 2017 – September 24, 2017
Before and after service.
Mondays through Thursdays: 9:30 A.M.—4:30 P.M. Or you may call the JCI office 1-773- 568-
1770 24 hours. After hours please leave a brief message and a telephone number. Classes
begin September 25, 2017.
BY MAIL: Complete a registration form, and send it with the $20.00 registration fee (check or
money order) for each class to: JOHNNIE COLEMON INSTITUTE
11901 South Ashland Avenue
Chicago, Illinois 60643-5434
Students registering after September 26, 2017 must pay the $20.00 registration fee plus a $5.00
late fee, a total of $25.00 per class after September 25, 2016. All checks and money orders
should be made payable to: C.U.T./J.C.I.
(Please do not send cash through the mail.)
REGISTER ONLINE: www.cutemple.org (Classes Tab)
REGISTRATION FEES ARE NOT REFUNDABLE. The Institute reserves the right to cancel
classes due to low enrollment. For additional information, please write or call the JCI office at
(773) 568-1770.
JCI RESERVES THE RIGHT TO CANCEL CLASSES DUE TO LOW ENROLLMENT.
GENERAL STUDY CLASSES
Required for the JCI Master Certificate Program
BASIC TRUTH PRINCIPLES I-An introduction to the Basic Truth Principles as espoused in the Johnnie
Colemon Institute, it includes the origin and history of New Thought. This leads to a better understanding
of the principles one should apply in order to live the abundant life taught by Jesus.
Texts: Alternatives—Fisher, New Thought Christian-Warch
BASIC TRUTH PRINCIPLES II-This class provides a more in-depth study of the Basic Truth Principles
which one should learn in order to live a healthy, happy, prosperous and more successful life.
Prerequisite: Basic Truth Principles I
Text: Lessons In Truth-Cady
BIBLE I: INTRODUCTION TO THE BIBLE-A knowledge of the literal helps one better understand the
metaphysical. Prerequisite: Basic Truth Principles I and II
Text: Don't Know Much About The Bible-Davis
BIBLE III: OLD TESTAMENT METAPHYSICAL-A study of the metaphysical meaning of the characters
and events of the Old Testament and their relationship to our attitudes and experiences.
Prerequisite: Basic Truth Principles I and II, Bible I & 2
Text: Let There Be Light-Turner
BIBLE V: NEW TESTAMENT I—METAPHYSICAL-A study of the metaphysical interpretation of the life
and teachings of Jesus, and their impact on our spiritual growth.
Prerequisites: Basic Truth Principles I and II, Bible 1,2, 3 and 4
Text: Your Hope of Glory—Turner
DISCOVER THE POWER WITHIN YOU-Explore Jesus' unique concept of God and his practical
teachings about attitudes.
Prerequisites: Basic Truth Principles I & II; Bible 1,2, 3
TEXT: Discover The Power Within You-Butterworth
PRINCIPLES OF PRAYER-Learn practical steps that are taken to enter the silence where God
dwells.
Prerequisites: Basic Truth Principles I & II; Bible 1,2, 3
TEXT: Effectual Prayer-Foulks
ELECTIVES
FOR WOMEN ONLY-Take an inner journey through your soul to discover tools and realities
needed to create the life you really want.
TEXT: Choosing Me Before We-Arylo
THE GIFT OF GRACE–Learn practical ways to overcome mental states that block the full
experience of grace.
TEXT: Grace Awakening-Unity
MEDITATION CLASS-Learn to access your inner most awareness and live your life in a way
that acknowledges and maintain contact with this awareness.
TEXT: The Heart of Meditation-Dalai Lama
FOR MEN ONLY-This class will offer tools to delete defective thinking, take control of your
thoughts and live a victorious life.
TEXT: Think Better Live Better-Osteen
THE POWER OF FORGIVENESS-This class will offer a five-step process designed to heal
relationships, let go of anger and blame, find peace in any situation.
TEXT: Radical Forgiveness-Tipping
WRITINGS OF ALLISON D. HARRELL 
-THE LORD'S PRAYER
-THE TWENTY-THIRD PSALM
-THE BEATITUDES
-PROSPERITY FOR BETTER LIVING
-HOW BIG IS YOUR GOD?
-JESUS, JESUS, JESUS
-GIVING THANKS TO GOD
-FOLLOW ME
"MASTER PLUS"
This programs is for students who have been awarded Master Certificates and wish to continue in advance study classes.
Prerequisite: Master Certificate
Tuition: $125.00 (No offering will be taken in class)
Text: Prosperity-Fillmore