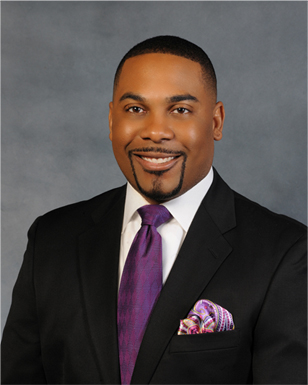 The Reverend Dr. Derrick B. Wells' testimony is one that embodies his love of God and humanity. It is the manifestation of the vision God gave him to help build and better individuals, families, and communities; a vision he has committed his life to.
Reverend Wells was installed as Senior Minister of Christ Universal Temple on Palm Sunday, April 17, 2011. The Chicago native had been a member of Christ Universal Temple for many years and was ordained by Christ Universal Temple's Founding Pastor, The Reverend Dr. Johnnie Colemon. His path to the pulpit may at first appear circuitous, after stints in both the military and corporate America, but the Lord divinely ordered his steps.
Reverend Wells took on a formidable task in shepherding Christ Universal Temple, a thriving, growing and progressive New Thought Christian Church founded by the charismatic Reverend Dr. Johnnie Colemon in 1956. What sets Reverend Wells apart in an arena of accomplished preachers and teachers is his ability to engage his audience while making complex theological concepts and principles practical. A transformational leader, Reverend Wells continues to excel at empowering and adding value to his audiences.
Reverend Wells profoundly believes that Christ Universal Temple is the industry leader in helping people live better. He is committed to God's mission for Christ Universal Temple to teach all people how to live better lives through the renewing of their minds. His visionary initiatives enrich the life and health of the church and engage the neighboring communities in new and sustaining ways.
A decorated veteran of the Persian Gulf War, Reverend Wells served admirably in the United States Navy where he received numerous awards and commendations. A product of the Chicago Public School System, Reverend Wells is a critical communication scholar and a member of the Lambda Pi Eta Honor Society. He attended the University of Chicago as a member of the Returning Scholars Program and is now pursuing his doctorate at Olivet Nazarene University. Reverend Wells was also a contributing author for the recently released book "Spiritual Principles for a Prosperous Life."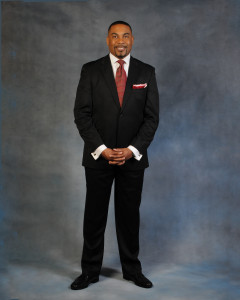 Immersed in the leadership and communications disciplines, Reverend Wells is passionate about developing leaders and being his best at teaching others the principles, techniques, and strategies taught by Jesus the Christ. Rather than isolating people, he sees leadership and communication as tools to make theology more accessible and thereby more transformational and practical in the lives of individuals, families, and communities.

Reverend Wells' partner in life, ministry and service is his wife Sylvia. They are the parents of a daughter, Malika and son, Mikael. Reverend Wells sees the potential of God and the emergence of the Christ in all humanity. He believes that education, leadership, vision, divine capacity, and experience converge as crucial elements to both build upon and build the legacy that has been set before each of us. Certainly God is not done and the best is yet to come.